"You Get More of What You Celebrate." Success cannot be measured by just one thing. Success in the music classroom can look many different ways and we should acknowledge and celebrate ALL forms of success. In an effort to support each other and band programs all over the state, this page will highlight good teaching and positive experiences for students in a variety of settings. Every program may not see success in the same way but that doesn't mean there is an absence of success and good teaching.
Julia Freeman, Kelly Park K-8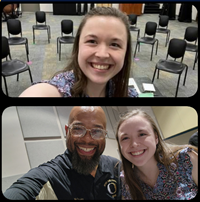 Julia took over the band program at the brand new Kelly Park K-8 School in Apopka this January, shortly after the FMEA convention.  Although the band did not perform at MPA in early March, she still brought all of her 7th and 8th grade students to observe the MPA process.  Here students were fully engaged in the band performances as they completed adjudication sheets led by Ms. Freeman's guided instructions.  The students were attentive, well-behaved, and they also played MPA Bingo!  It was nice to see how well they interacted with each other and their teacher in such a short period of time.  Everyone made it to MPA and back home safely.  "Success Happens in Many Different Ways."
April 11, 2023
Stephanie Jones, Edward H. White High School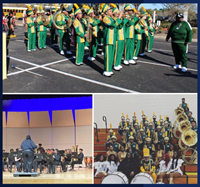 The Edward H. White High School Band in Jacksonville is under the direction of Ms. Stephanie Jones.  The Ed White Band returned to Marching, Concert, Solo & Ensemble, and Auxiliary MPAs this year.  To many of us, this may seem as normal practice, however, the band program does not have any middle school feeder programs.  It is up to Ms. Jones to recruit members from the school population while starting them as beginners in high school and getting them fundamentally sound for adjudication as well as numerous community and school-related performances.  The tremendous growth shown by Ms. Jones and the band has been remarkable. We are proud of their accomplishments and look forward to more greatness to come. Mr. Jones has been at Ed White High School for over 6 years now, proving that staying in a school and building a positive culture, regardless of the obstacles, can be achieved by a dedicated director and supportive community! "Success Happens in Many Different Ways!"
Adam Chasteen, Liberty County High School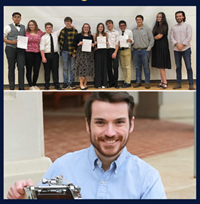 Adam Chasteen started as a band director at Liberty County High School in January of this year. Not missing a beat, Adam hit the ground running choosing appropriate MPA music, performing at MPA in March (Improving upon previous years' ratings), and is looking forward to the next year. Currently, he is choosing a marching band show, selecting officers and leaders for next year, preparing for spring performances this year, and building a positive culture for students. We are excited about the future of the Liberty County High School Band Program! "Success Happens in Many Different Ways!"